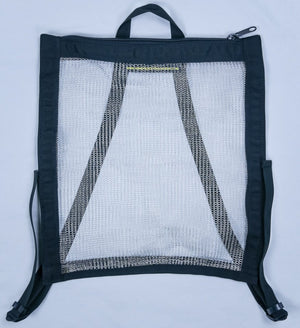 Clear View SackPack
Sale price Price $49.99 Regular price
Going to a concert or a sporting event at a major venue? Don't want to contribute to the ever-growing mounds of single use plastics littering the earth?
We've got you covered.
The Clear View SackPack is a practical, sustainable, and safe alternative to the clear plastic bags that patrons are required to use for their personal belongings at increasing numbers of music and sports venues. Made of the same durable, non-rusting stainless steel mesh as our RatSacks, the SackPack features adjustable nylon straps and a sturdy zipper-secured opening. They're handmade right here in the USA, they last for years with proper care, and unlike plastic bags they are slash-resistant - a deterrent to thieves looking for an easy target.
Dimensions: 16" W x 18" L
Zippered Opening: 14" W
Volume: approximately 13 liters
Weight: 11.5 oz.